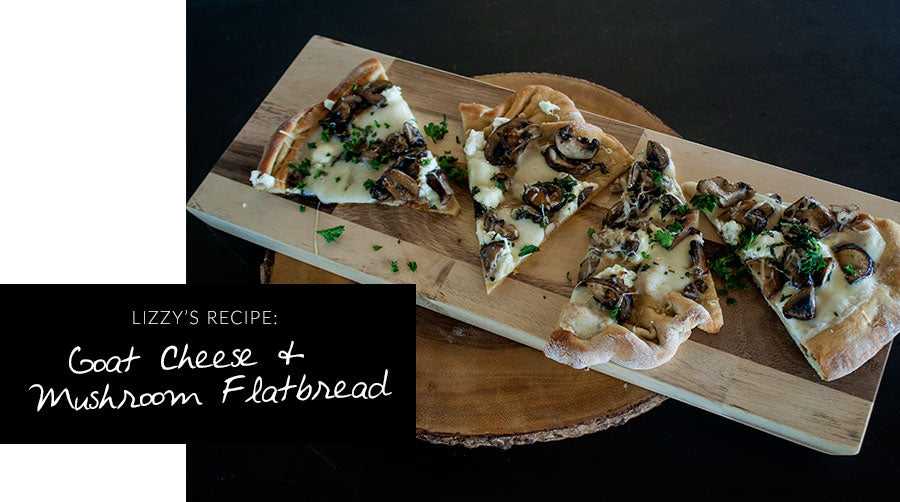 This is my go-to recipe when I need to make something delish and I'm short on time. I change the toppings depending on what I have on hand, and pre-made dough, makes this a snap!
Recipe: GOAT CHEESE & MUSHROOM FLATBREAD
Servings: 
8-10
 

     Time:

 
35 minutes
___________________________________________________
Ingredients:
1 cup Chopped Mushrooms
3/4 cup Goat Cheese
1 1/2 cups Shredded Mozarella
2 heaping tbsp Freshly Chopped Basil
12 tsp Truffle Honey 
2 tbsp Olive Oil 
1/2 cup flour
1 package Trader Joe's Pre-made Pizza Dough
___________________________________________________
Directions:
Preheat oven to 375 degrees.
Sauté the mushrooms in a tbsp of olive oil until browned. Set aside.
Sprinkle flour on a large flat surface. Form a ball the size of a grapefruit out of the dough, and use a rolling pin to flatten. Use more flour as needed. Sprinkle a cookie sheet with 1/4 tbsp of olive oil and spread it around evenly. Place the dough onto the cookie sheet and bake for 15 minutes or until the dough is crispy and slightly brown.
Take the dough out of the oven and brush the top with the remaining olive oil. Spread your mushrooms, goat cheese and mozzarella out evenly onto the dough. Top with half of the chopped basil and drizzle with truffle honey.
Bake again for 10 minutes or until the cheese is melted.
Cut into 8 or 10 slices (depending on how generous you want each portion to be;) and serve with the remaining freshly chopped basil as garnish.