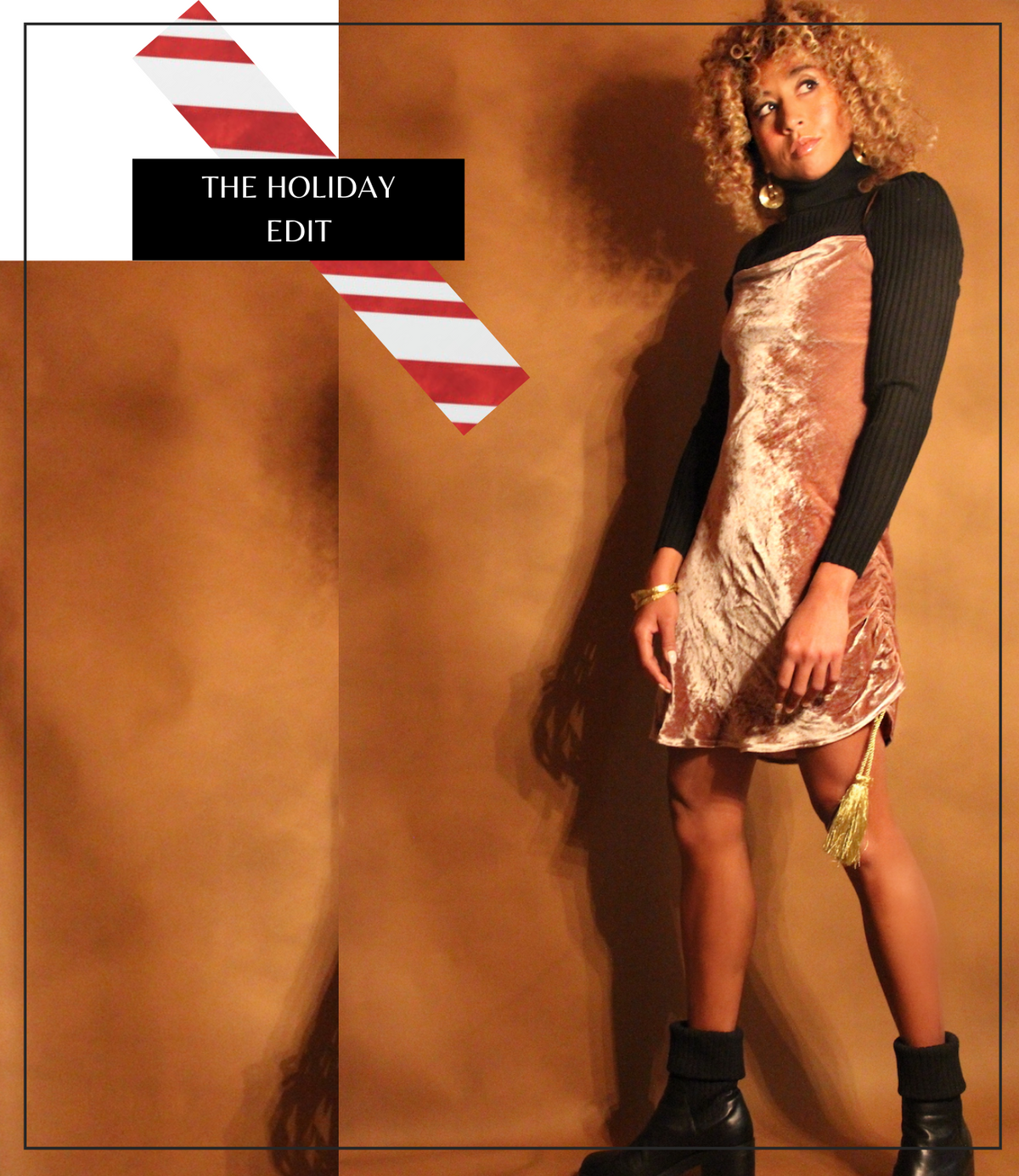 No one is denying that this holiday season will certainly be different.  However, we all have something we are planning to do whether it's simple dinner with the family or a gathering with a couple of friends by a fire.  Finding the right outfit could be a challenge given the circumstances.  We may not want to be in jeans and a tee and we not want to be as dressy as we normally do for the holidays. For such occasions, we made it simple for you. We put together complete outfits with a personality that are understated yet uber stylish for any mood.
Artsy Sophistication: Our first look is with our JORDAN upcycled silk velvet slip dress.  This dress alone is smashing, but we know it's a bit chilly in most areas, so here is a fresh new way of styling the JORDAN.  Simply add a black turtleneck, stockings if needed, black chunky booties, a bold gold earring, chunky chain link necklace and gold cuff.  Voilá.
Let's play:  The second look is with our DYLAN upcycled red embroidered top.  As you may think this top was only meant to be paired with black, we are here to challenge that. This top can dress any pant up, but in this case, we chose a darker denim simply because darker denim always looks a bit more refined.  Pairing this combo with a complimentary bold color brings out the playfulness of this top.  We found this fabulous designer/brand We Dream in Colour and fell in love with her scarab bold earrings.  Taking the color from the earring and tying it together with a bootie in the same hue completes the whole look.  We found a matching cuff for fun.
Glam-l-eisure:  Spice it up or is it underplay the obvious?  The third look is with our VALENTINA upcycled skirt.  A fan favorite in the LAHIVE crew.  We have styled this skirt in so many ways that it surprises even us.  For this season, we decided to go with a vintage inspired Tee (this one happens to be blush) from the Kooples and a chunky hoodie from Alexander Wang. The blush color has been a hit for two seasons so there is plenty affordable options out there to choose from.  We paired these with our white sneaks and again, our new favorite, We Dream in Colour bold gold earrings to bring out the sequin on the side of the skirt.  Don't forget, for those of you who like a mini skirt, just snap off the extra length and there you have it.  
Rocker Chic Me:  The forth look is with our SUNDIS dress that we just dropped.  Now, some of you may think that this strappy dress can only be worn in the summer, however, we cut it in a thick knit.  Combine that with the ultra soft cotton modal lining and a leather jacket and boots. You are completely cozy, yet drop dead gorgeous.  You will want to wear this dress to lounge around the house.  It's THAT comfortable.  Pairing our upcycled SUNDIS dress with The Sway's recycled/ upcycled leather jacket gives you a huge jump start to a completely sustainable look.  Here, we also paired her with Tamara Mellon's amazing teal boots and mustard bag.  
Matrix Me: The fifth look is with our VIVIENNE dress.  This dress on it's own is show-stop-ing.  In addition, it's lined in an ultra soft cotton modal and cotton modal knit sleeves allowing it to also be pretty darn comfortable.  On most occasions we would style her with a heel, however, we decided to urbanize her with a pair of moto boots and sling over bag with a thick nylon strap. 
Effortlessly Chic: The final look is with our BILLY JEAN swan top.  The Billy Jean is another piece that has been styled in many ways.  For this holiday, we decided to wear a warm turtle neck underneath and a light color pair of straight leg jeans.  We chose a pair that end right at your calf. If they don't, just roll them once or twice.  As you can see, we couldn't just give you one shoe option.  The first option is a simple off white flat bootie which is on trend right now, but also a gorgeous new basic. The second option is this seafoam green boot we fell in love with.  With a black and white piece like the BILLY JEAN you can add almost any accent color.  To finish the look we found a tiny pair of vintage teal earrings on etsy. This will bring the seafoam color from head to toe. 
As you can see, if you take the Billy Jean away, you have a very everyday simple look of jeans and a turtle neck.  Once you add the Billy Jean, you've become a fashionista.  
To conclude our array of fashion styling for the holidays, we leave you with a thought. While purchasing for yourself and others this holiday season, think about being a  conscious consumer and ask questions like 'where and how was this little gem made?' 
Not everything we styled is 100% sustainable, but there are plenty of options to help you get started toward that path.  Even if it's just a thought.