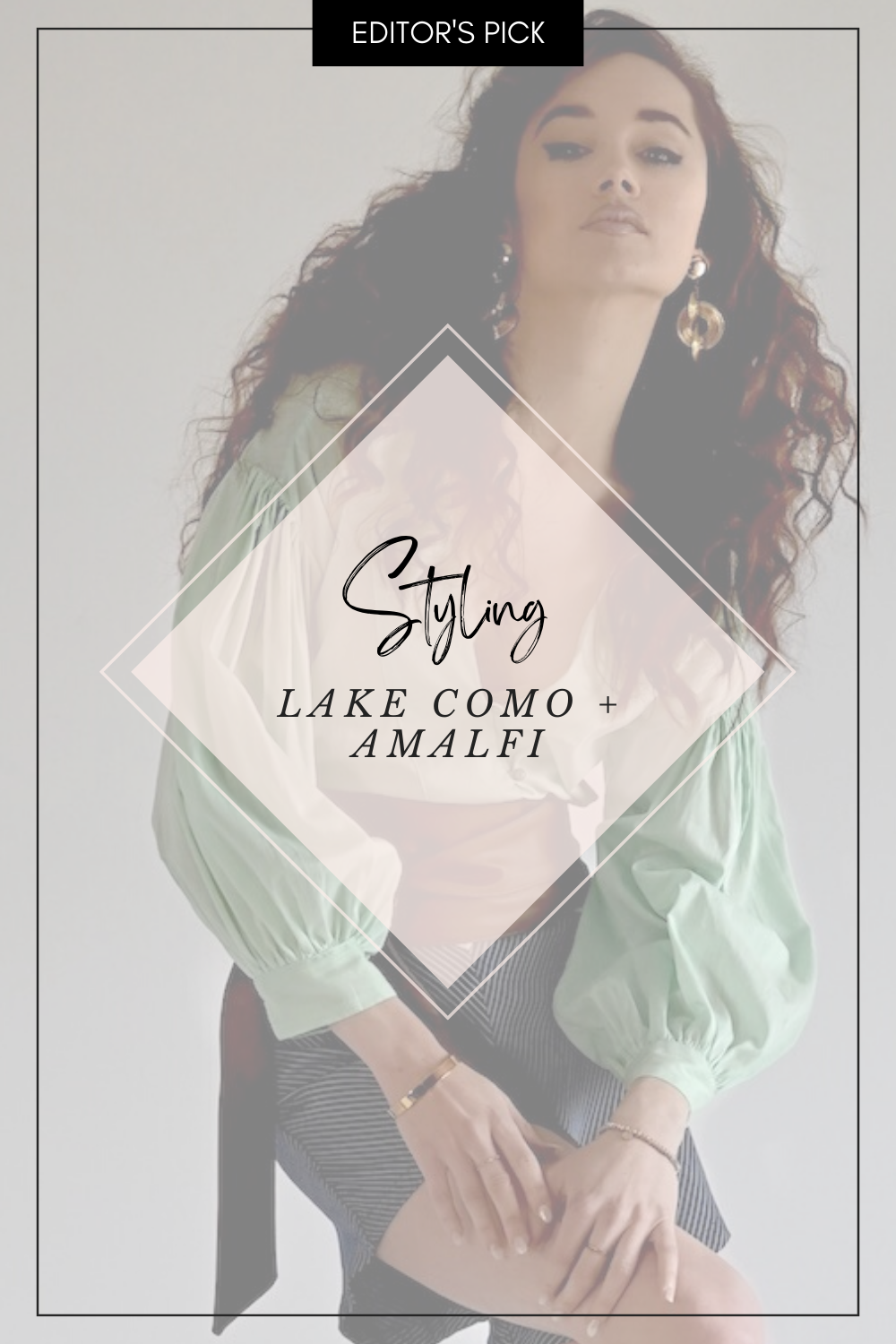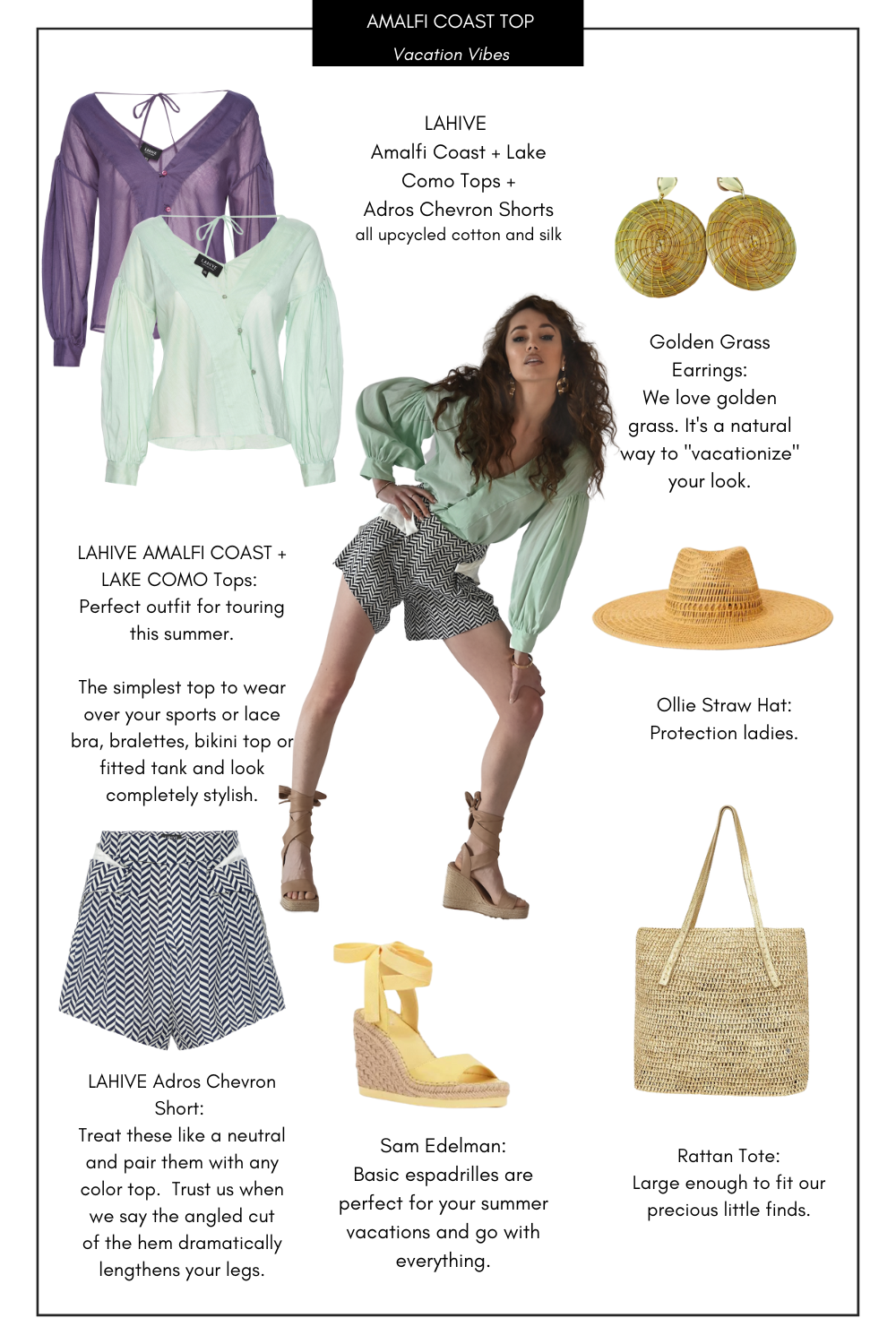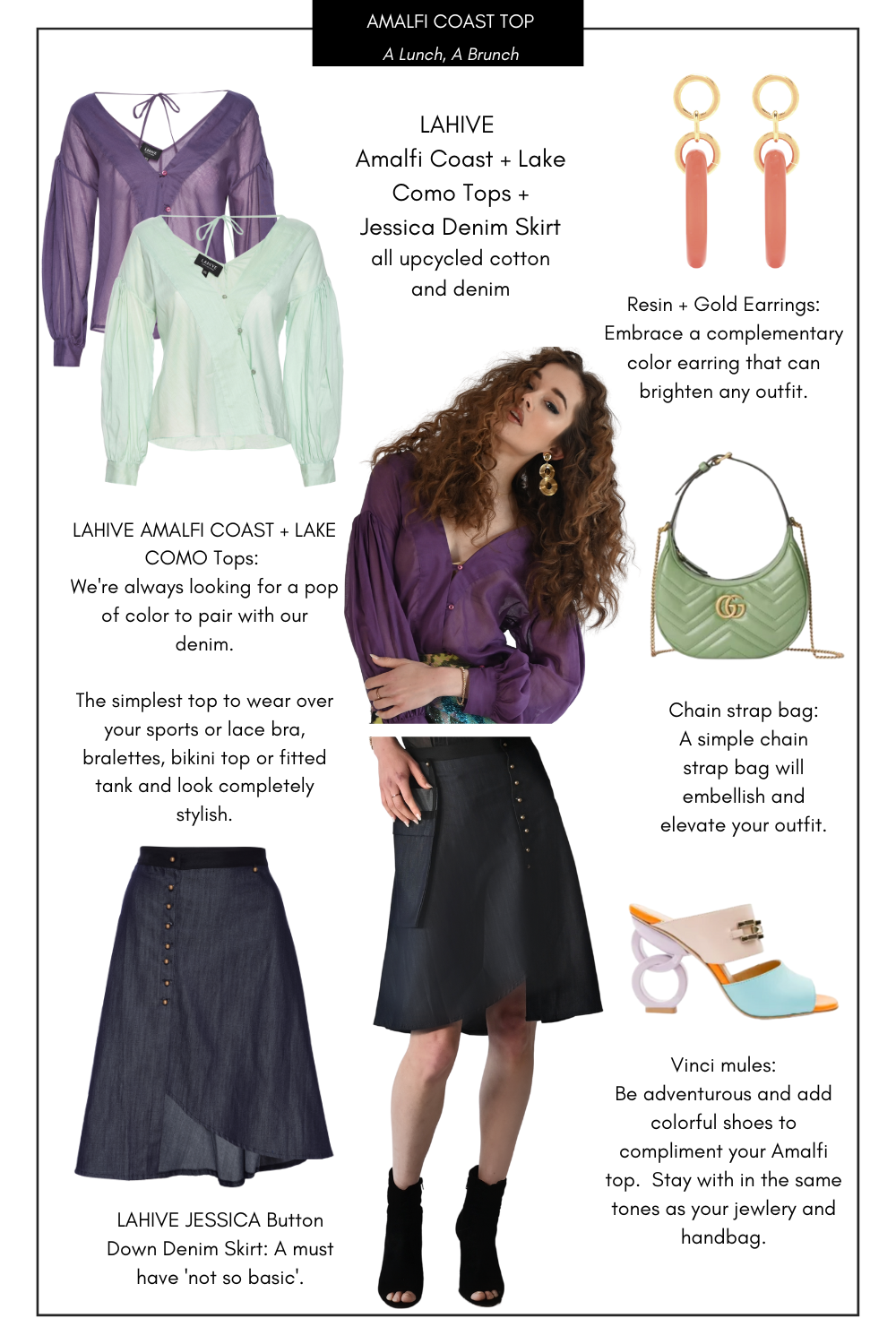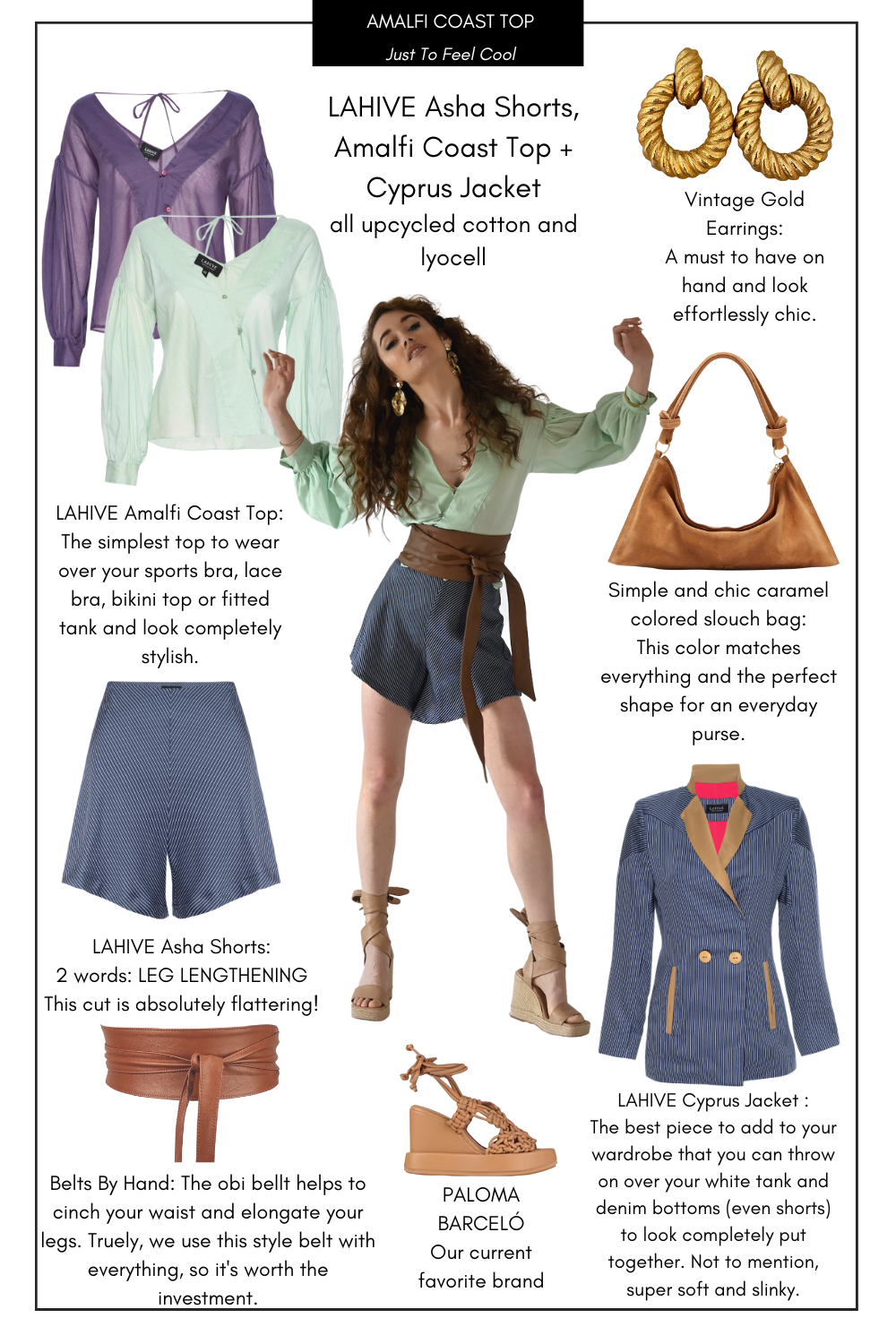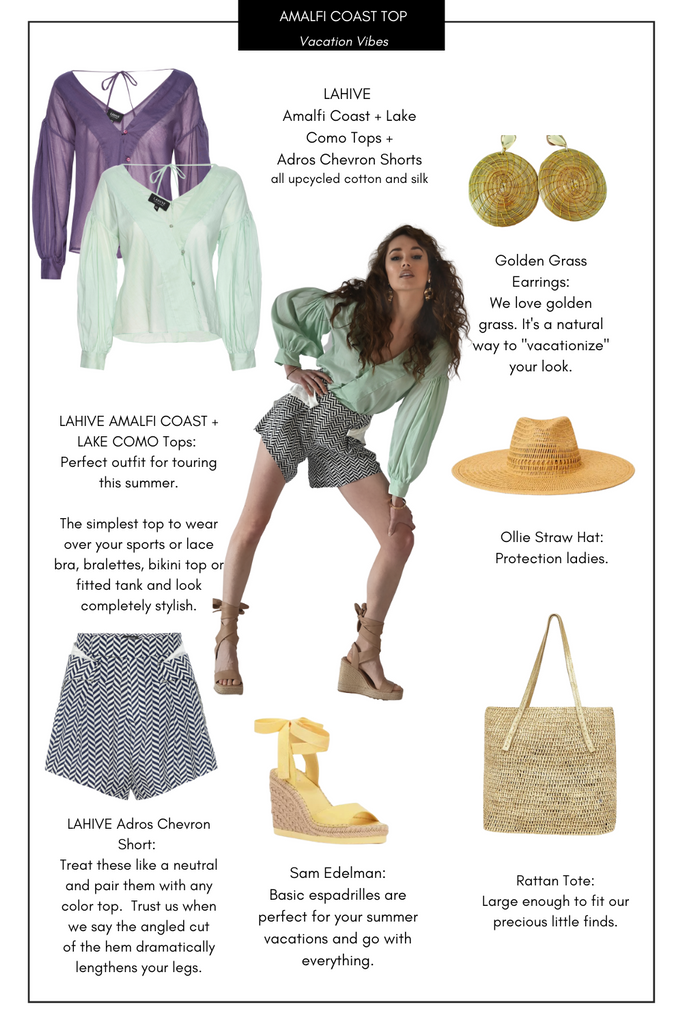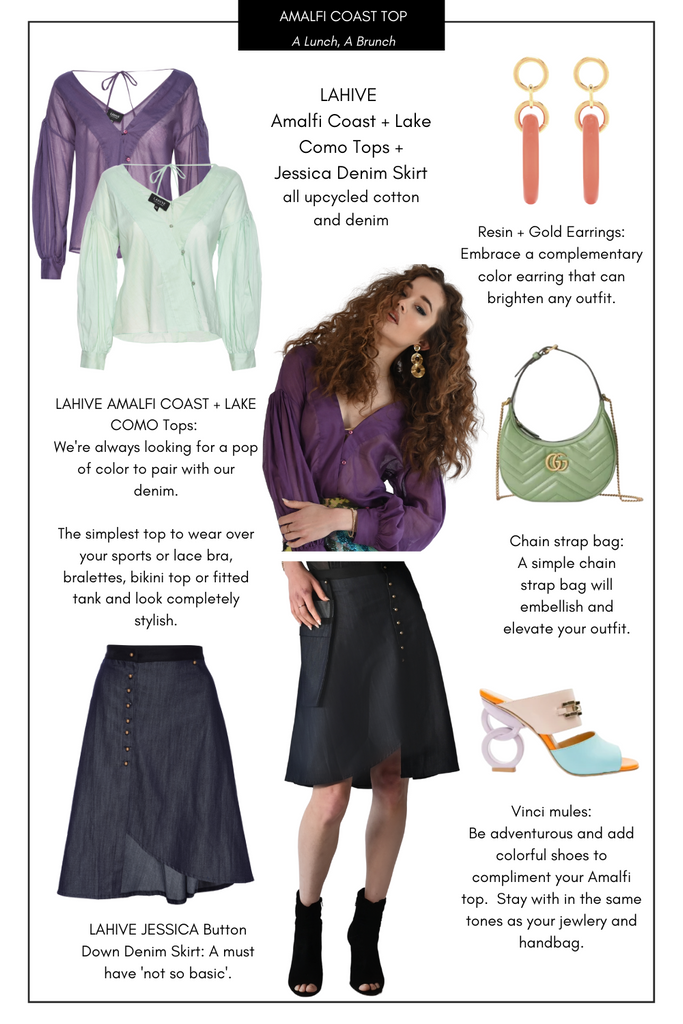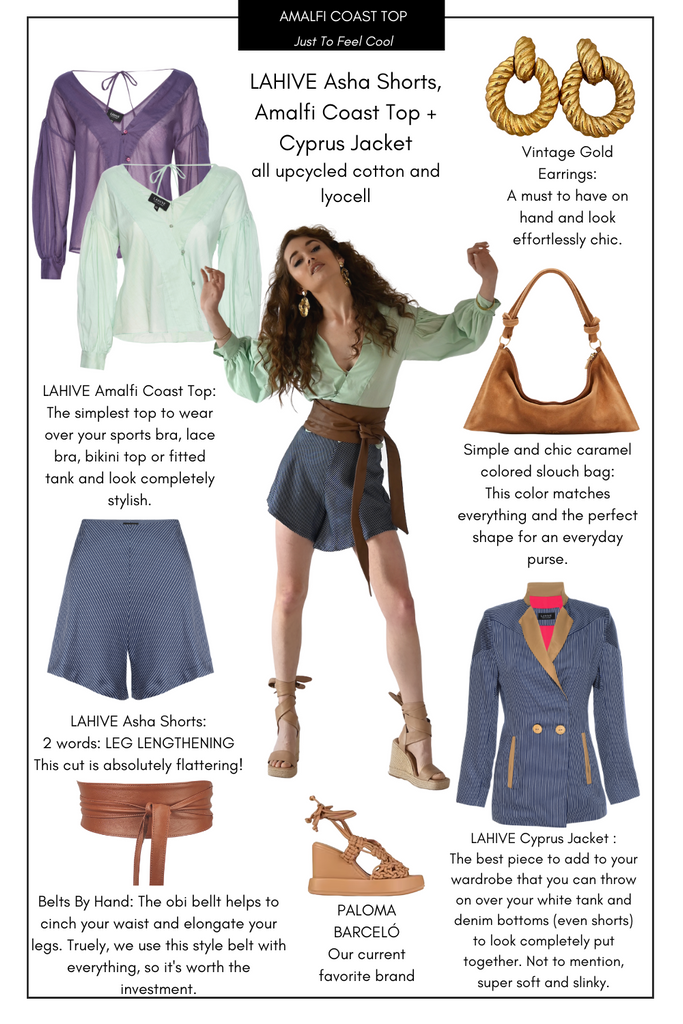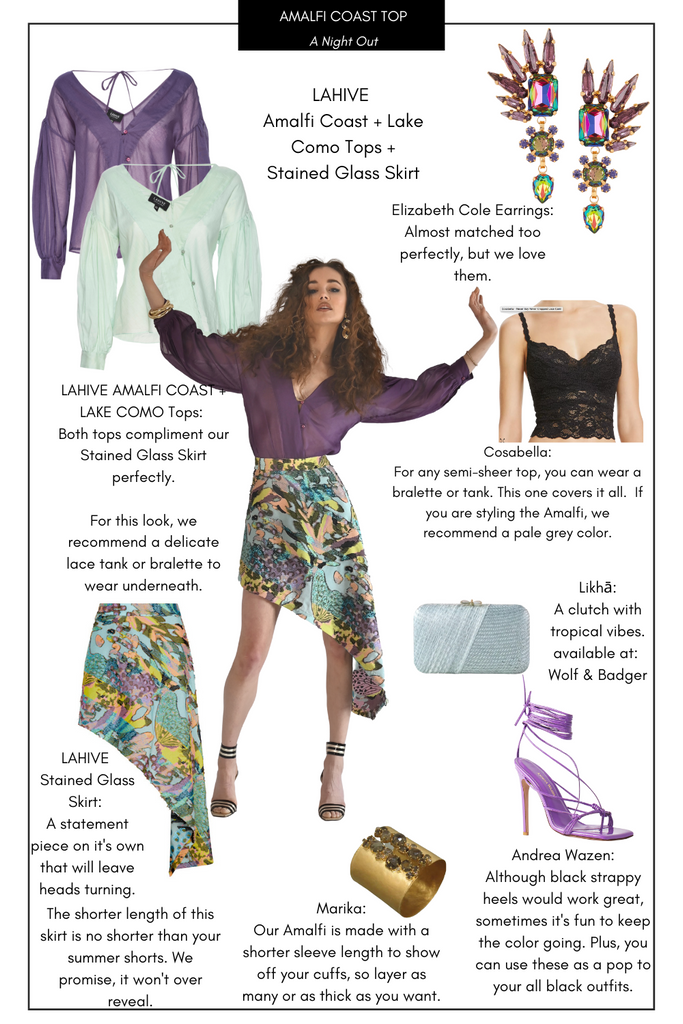 On Sale
Editor's Picks + Style Tips: Amalfi + Lake Como
Dive into a world of adventure with Vacation Vibes! Our upcycled cotton voile Amalfi top and upcycled silk Adros shorts will keep you feeling comfortable and looking stylish, wherever your journey may take you. Feel the breeze and explore with ease!
Look 1: Vacation Vibes
Escape to the Amalfi Coast with the Editor's Picks + Style Tips: Amalfi + Lake Como. The look includes the Amalfi top paired with Adros Silk shorts to lengthen your legs. The shorts are made with upcycled silk that breaths naturally, perfect for summer getaways. Top off the look with a big straw hat, golden grass earrings, a straw bag, and espadrilles for vacation-ready vibes.
 Look 2: A Lunch/A Brunch
This summer look was created to make you feel cool, chic, yet casual enough to chill with ladies. Our Lake Como Top + Jessica Denim skirt is perfect for ladies brunches and any casual daytime event.  We chose this Gucci handbag in powdery mint to compliment and brightens the purple without being too bold. Stay within the same hues and you can add colors like these pale coral earrings .  The mule unifies the tones pulling your look together and stepping out into that gorgeous summer breeze.
Look 3: Just To Feel Cool
This is a classic, sophisticated and luxe look.  We love how the mint hue of the Amalfi top plays on the blue Asha pinstripe shorts and finished with the amber leather obi belt giving it a very coastal 1940's vibe. The luxe feel of the lyocell Cyprus jacket incorporates this amber hue effortlessly pulling the whole look together.  We shared our new favorite shoe brand and sprinkled amber accessories everywhere.  Remember if your mom didn't save her jewelry, invest in a vintage pair of gold earrings.  You will find that they will go with everything.
Look 4: A Night Out
 Nothing looks or says "chic" better than an asymmetrical piece. Our Stained Glass Skirt is bold and eye-catching with its impressive textures, metallics, and feather details. Paired with our Lake Como or Amalfi tops add yet another layer of texture. You could opt for a simple black heel, but we wanted to show you that more is not too much.  Here we chose a bright lavender heel, colorful metallic gem earrings, and a soft powder clutch.  We added a black lace tankini to wear under your Lake Como top and, because the sleeve length allows it, a wide gold cuff to complete the look.